ANTI-BULLYING PINK SHIRT DAY - FEBRUARY 27
Feb 27, 2019 is Anti bullying Pink Shirt Day! Clothing orders are due Feb 1st. Please contact the school for order forms.
E.S. LAIRD SABRE CLOTHING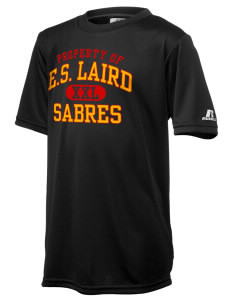 We have a new way of ordering E.S. Laird School Clothing.  Please go to the following website to view clothing and place an order:

http://eslairdmiddleschool.entripyshops.com/

Orders can be placed anytime and will be delivered directly to your home.  Please view the website for many different styles and colours of clothing.  You can even customize your clothing order!!
Join the Conversation with Cst. Grant Kirzinger!
Join the Conversation with the Lloydminster Public School Division's very own School Resource Officer, Cst. Grant Kirzinger, by clicking on the image (left)!
Please take a moment to fill out a quick questionnaire to give feedback to Cst. Kirzinger on what matters to you! Topics brought up through this survey will be used to generate a conversations with our families through newsletters, videos and more!
Our Eco9 program is a go for the 2018-19 school year!
Applications for Eco9 will be accepted starting April 30 and ending May 11. Please click on the image below to download the application form!


TTFM Survey- Parents please click on link to fill out survey
https://www.ourschool.net/survey/splash/qt7sd
Westridge Buick Test Drive!! We reached our goal of $10,000
A HUGE Thank You to our Sabre Families, Westridge Buick, and ALL of Lloydminster! Not only Did we Reach our goal of $10,000 but we set a new record! 695 test drives!! We now hold the record for all of North America!!!
This is #MyLPSD
Check out this video and school profiles book to learn more about LPSD's 10 schools and the programming we offer!
 This is #MyLPSD
Division News