SCC October Meeting 2020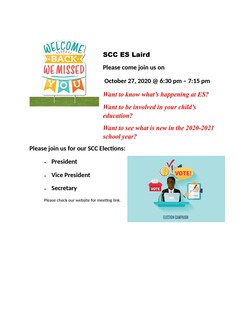 E.S. Laird's Re-Entry Plan
We have completed our re-entry plan for the new school year and invite you to click on the link below to view it.
https://eslaird.lpsd.ca/download/296885
We are excited to be back in the school, getting ready to welcome back our students!
Principal's Message
Welcome to the 2020-2021 school year! If your child is registered to attend our school in a few short weeks, we are busy planning and are looking forwarding to meeting you. However, we understand sometimes circumstances change so if you are not planning on attending ES this fall, can you please contact us at 306-825-8826 or email stacey.klisowsky@lpsd.ca as it effects our planning.
CITY OF LLOYDMINSTER SUPPORTS
Attached is a link to various Lloydminster supports.  If you feel the need for additional support, please feel free to access any of these supports.
Bus Registration 2020-21 School Year
Starting the 2020/21 school year LPSD will require:
All current IN TOWN families to complete either for below by July 31, 2020
All new families to complete either form below at the time of registration
All students requiring transportation will be assigned a specific seat
Those students who have not completed the Bus Registration form will not be allowed to ride the bus.
Transportation will be provided from/to one location only.
IN TOWN FAMILIES ONLY: Please complete one of the following two options for EACH of your children by July 31, 2020.
Option 1: My child will NOT need transportation. Please complete the following form.
Option 2: My child REQUIRES bus transportation. Please complete the following form.
Uploading Yearbook Photos
With the halt on being physically in school, we are being creative in how to retrieve photos from the school year for our Yearbook. We kindly ask all our families to share their photos with us so we can fill up our Yearbook. Follow the link above in the graphic to get started.
E.S. LAIRD SABRE CLOTHING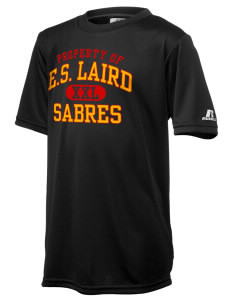 We order our E.S. Laird School Clothing online with the convenience of paying online and have it arrive at your door.  Please go to the following website to view clothing and place an order:

http://eslairdmiddleschool.entripyshops.com/

Orders can be placed anytime and will be delivered directly to your home.  Please view the website for many different styles and colours of clothing.  You can even customize your clothing order!! When we have promotions, we will post them on our Facebook page so go "like" it to be in the know.
Division News