District Notice
Classes suspended indefinitely
The Government of Saskatchewan has suspended classes indefinitely, effective March 20, due to the ongoing COVID-19 pandemic.
Orange Shirt Day
On September 27 from 8:30 - 3:30 we will have a display set up in the commons area (by the gym) that shares information on the meaning of Orange Shirt Day. There will be videos on a loop for the full day.  At this time students can also purchase shirts. Some shirts will be $10 and others will be $2.  We then will wear our orange shirts on Sept 30.  * Should your students not purchase a shirt, that is fine, but encourage them to wear an orange shirt on Monday, Sept 30th .  Below is a news insert. Please share with your parents via email. Thank you, 
KICEYITAKOSIWAK AWASISAK

(Children Are Sacred)

Children of residential schools are honoured annually on Orange Shirt Day. The campaign'sslogan - Every Child Matters - loosely translates to Kiceyitakosiwak Awasisak in Cree,which means Children Are Sacred.

As part of First Nations culture, childhood is the foundation of our journey through life. Building a strong foundation is vital to the development of the person they will become.The translation of Children Are Sacred honours the Cree holistic value that everything in life is sacred.

Orange Shirt Day began to help spread awareness for children who attended residential schools. The orange shirt symbolizes these children having their identities stripped away. LPSD schools will be celebrating the culture and honouring the history through featuring
displays that will include images and videos of the Orange Shirt Day campaign and Residential Schools starting the week of Sept. 23.

To reinforce that Every Child Matters, students can purchase their own orange shirtfrom their local school starting the week of Sept. 23. Students will be asked to wear their shirts on Monday, September 30th.
CITY OF LLOYDMINSTER SUPPORTS
Attached is a link to various Lloydminster supports.  If you feel the need for additional support, please feel free to access any of these supports.
Our Eco9 program is a go for the 2019-20 school year!
Applications for Eco9 will be accepted starting April 1 and ending April 18. Please click on the image below to download the application form!


E.S. LAIRD SABRE CLOTHING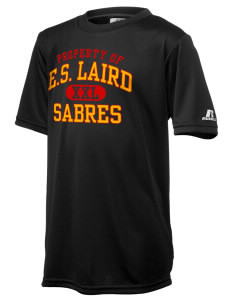 We have a new way of ordering E.S. Laird School Clothing.  Please go to the following website to view clothing and place an order:

http://eslairdmiddleschool.entripyshops.com/

Orders can be placed anytime and will be delivered directly to your home.  Please view the website for many different styles and colours of clothing.  You can even customize your clothing order!!
TTFM Survey- Parents please click on link to fill out survey
Westridge Buick Test Drive!! We reached our goal of $10,000
A HUGE Thank You to our Sabre Families, Westridge Buick, and ALL of Lloydminster! Not only Did we Reach our goal of $10,000 but we set a new record! 695 test drives!! We now hold the record for all of North America!!!
This is #MyLPSD
Check out this video and school profiles book to learn more about LPSD's 10 schools and the programming we offer!
 This is #MyLPSD
Division News